Almost two weeks ago we knew the result of TOTS of Bundesliga and some other leagues of FIFA 17. Fans of La Liga are also eager to know whether their idols have been added to TOTS. So when we get the latest news of La Liga, we share with you here. Before we come closer to the result, let me make a summary of it. The data of Messsi and Christiano Ronaldo are really amazing. It is nearly 100. Unluckily, Luka Modric has not been added to the team. I guess many of you will feel regret for him.

Analysis of TOTS of La Liga
Actually, the game results of La Liga in real was open to us almost two weeks ago. The list of shooters and leagues can be used to make a prediction of the OVR of some players. In fact, the latest news of FIFA 17 TOTS of La Liga also proved the point that the virtual game FIFA 17 always endeavor to be closely linked to the reality. The performance of players in reality will have an impact in their attributes in the game. So sometimes it gives some hints for us to do a wise investment in FIFA 17. After all, the attributes of players of TOTS will boost one to two points. This will be beneficial to fans of La Liga.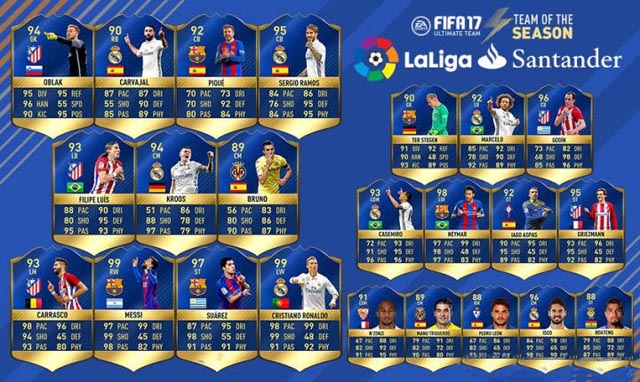 Messi—Barcelona—99
Christiano Ronaldo—Real Madrid—98
Sergio Ramos—Real Madrid—95
Extremely amazing data!!! Guys who have known the result will benefit a lot from the result. Most of players were really shocked. They said they should just make their OVR 100. They feel really proud of their idols. Messi and Ronaldo need not to be introduced here. All of fifa fans know something about them. However, you may know little about Sergio Ronaldo. As a professional footballer from Spain, he played for his national team and Real Madrid. He plays well as a central defender and a right back. He even captained the team at UEFA Euro 2016.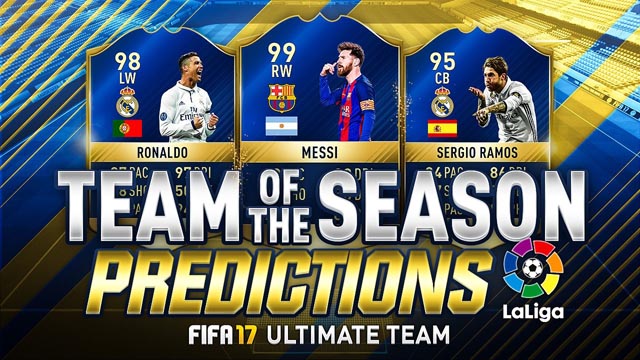 www. cnacoins.com: If you want to know more news about FIFA 17, please focus on our website. We are also fifa fans and willing to share what we know with you. Furthermore, we also provide you with what you need.
Cheap FIFA 17 coins
can be bought here. You can buy fifa 17 coins to gain players of TOTS you want to get.